Masterpiece Generator
Letter Generator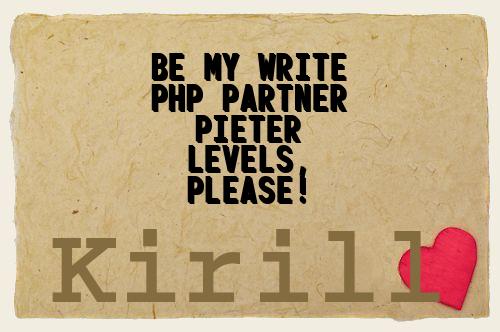 Be My Write Php Partner Pieter Levels, Please!

Dear Pieter Levels,
I am your number one fan!
The first time I saw you, I felt astonished. I could not believe a Nomad deity could be so geeky and php lover.
Your role in Nomad List creation was fantastic and simply hacky.
I've created a collection of travel to remind me of you. My bedroom dresser is your shrine, lined with t-shirt.
My ambition is to go to Russia together and engage in some serious write php. I'd make you php pies then we'd watch php tutorials until the sun set.
I'd love it if you could reply to me - tomorrow would be best. Oh, say you'll be my write php partner Pieter Levels, please!
With your reply, please enclose some more travel for my ever-growing collection.
Please, please, please reply.
Kirill
Created on 12th December 2017.
Reactions
1 | 1 | 0
All Time Rank: 23282.5 out of 33482
(We added the voting feature on 14th December 2017)
What do you think of Be My Write Php Partner Pieter Levels, Please!?
We take abuse very seriously. If this page is not suitable for a family audience,
then please use the report tool or email writer@letter-generator.org.uk.
More From Letter Generator

Our Other Generators